Category:

Technical

Post Date:

16 May 2019
The Different Types of Roof Trusses and their Uses
Roof trusses are the most popular form of roof framing in the UK, providing a more flexible and quicker type of installation. They also offer a more affordable engineered solution for roofing, using up to 40% less timber than a traditional cut roof.
Not all roof trusses are the same: they can come in all shapes and sizes depending on your build project. Keep reading to find out more about the different roof truss types and their uses.
What is a roof truss?
A roof truss, also known as a trussed rafter, is a prefabricated structural framework which is used to support the roof on a building. Roof trusses are predominantly triangular in shape, and they typically include triangular shapes in various configurations to suit the roof's pitch, size or design.
Triangles are commonly used in construction due to their practicality and their ability to enable finite control of loads, making them ideal for roof structures.
Roof trusses are made off-site, then lifted into place where they are secured into the roof structure of a building. There are two main roof truss types – flat and pitched. These truss types can be categorised into more specific truss types, all of which are suitable for a range of different construction applications.
Roof shapes
Roof trusses are used to construct a variety of roof shapes such as Hip, 'T' intersection, 'L' return, overlaid hip and a dogleg intersection.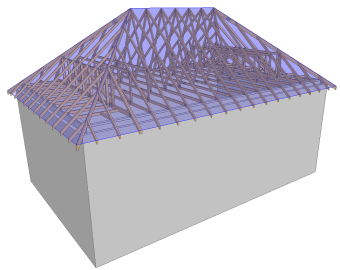 Shapes & Profiles
To make the best decision on a suitable truss type for your roof, contact one of our experienced designers to discuss your specific requirements.

The following shows the range of roof truss types that are most commonly used.
Attic Truss
The attic truss – or "room in roof truss" – provides a simple structural roof and floor as one complete section. Attic trusses are becoming more common as they offer more living space without having to change the footprint of the house. Explore our attic truss solutions.
Fink Truss
A fink truss is the most common type of truss used, especially on homes and pedestrian buildings. This truss type has an internal web configuration shaped like a W to give the ultimate strength to material ratio for spans from around 5m to around 9m in span which covers the majority of domestic dwelling being built today.
Hip Truss
The hip truss forms the basis of the hipped end roof shape, but can also be used to provide a flat roofed section between roof slopes where the overall height of the building is an issue.
Mono Truss
Raised Tie Truss
Scissor Truss
Mono trusses are sloped in one direction only and are used to create multiple level roof lines. They also can be used as an addition to an existing building.
Raised tie trusses are used to provide a higher ceiling line for extra headroom. This type of truss is ideal for increasing the height of the room without needing to increase the overall height of the building.
A scissor truss is similar to the raised tie truss but the sloping ceiling is at a shallower angle to the outer roof pitch giving more strength to the truss and therefore giving more flexibility in design. The ceiling line on the scissor truss can be fully pitched or with a flat section in the centre.
Further truss types include the following:
King Post Truss – for small spans.
This roof truss type is used primarily for small or short spans. They are particularly common in structures such as extensions, porches, garages and outbuildings. Older buildings in particular tend to feature open, visible king post trusses.
Queen Post Truss – for slightly larger spans.
Characterised by a vertical upright with two triangles either side, this type of truss is typically suitable for structures with slightly larger spans. Queen post trusses are now not as commonly used, as they have now been succeeded by fink trusses.
Fan Truss – for spans larger than the fink truss range.
This type of roof truss is best suited to spans which are larger than the fink truss range. They are a form of fink trusses in which top chords are divided into small lengths, offering support for purlins which wouldn't come at joints in fink trusses.
Girder Truss – special trusses designed to support other trusses or areas of infill.
This special roof truss type is designed to provide support to other trusses or areas of infill. They can be described as a pitch truss that has a truncated or flat apex so that it can support more load.
Lattice Truss – used within a roof to support other trusses or for large flat roofs.
This truss type is used within a roof to support other trusses or for large flat roofs. Lattice trusses are made up of interlaced chords that are horizontally and diagonally cross-linked to provide a structure with extra support and stability.
Gable End Truss – spans across an opening in a gable wall and designed to be clad on-site.
This roof truss type is designed to pan across an opening in a gable wall and manufactured to be clad on-site.
Pasquill are pleased to offer competitive lead times for all roof trusses, alongside 5 day express delivery when a quicker turnaround is needed. For more information about our roof solutions, get in touch with our team.
FAQs
How are roof trusses made?
Roof trusses are typically made from timber or steel which is bolted together. Roof trusses are made up of pieces of straight wood which are joined together in triangular shapes in order to support the weight of a structure's roof.
What is roof truss spacing?
In most cases, roof truss spacing is around 400mm (16 inches) or 600mm (24 inches) from the centre, i.e. the centre of one truss to the centre or the next truss.
Do roof trusses need to be treated?
Yes, it is common practice for any surface of timber that is exposed to drilling or cutting to be re-treated with a cut end preservative.